Toyota Aftermarket Parts
TOYOTA Snorkel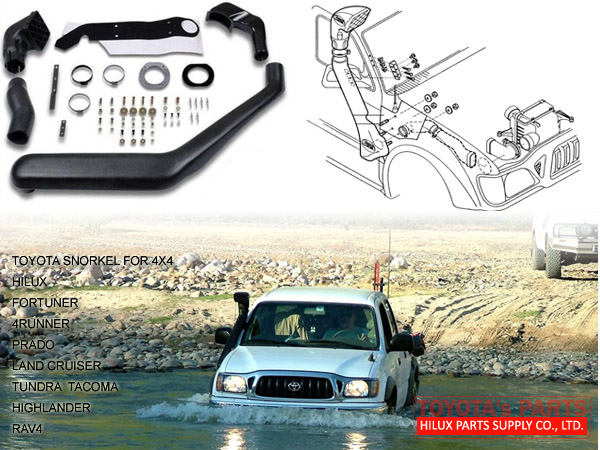 TOYOTA Snorkel,Toyota FJ Cruiser Snorkel,Toyota Hilux Snorkel,Toyota Vigo Snorkel,Toyota Fortuner Snorkel,Toyota Tacoma Snorkel,Toyota Highlander Snorkel,Toyota Rav4 Snorkel,Toyota 4Runner Snorkel,Toyota 4X4 Snorkels,Toyota 4X4 accessories.
A vehicle snorkel is the land-based equivalent of the submarine snorkel which allowed submarines to use diesel engines while submerged. Snorkels, when used by vehicles with air-breathing internal combustion engines, allow limited deep fording capability for river crossing or amphibious landing operations.
Military wheeled vehicles, like Jeeps, are capable of mounting snorkels for the air intake and engine exhaust, to allow them to wade through relatively deep water, limited by the height of the driver's head. In the case of a Jeep, all of the engine openings and wiring are sealed, and the driver must first operate a damper that over-pressures the engine vacuum, to prevent water from entering. After fording, the vehicle's wheel bearings must be repacked with new lubricants. Tracked military vehicles such as tanks and armored personnel carriers generally operate with all hatches sealed and the crew fully enclosed by the vehicle.
Such snorkelling equipment is available as an aftermarket accessory for some civilian four-wheel drive vehicles. The snorkel is typically routed out through one of the front wings and up beside the "A" pillar to the level of the roofline where it is terminated with either a mushroom intake or a forward-facing intake.
CONTACT US

Contact: Mr. Michael
Phone:0086-139-2246-2247
Tel: 0086-20-373-528-85
Email: info@toyotahiluxparts.com, toyotaparts@qq.com
Address:No.2 Yuanquan Street,Guang Yuan East Road, Guangzhou, P.R. China. Zip Code:510500
Home Http://www.ToyotaPartsCo.com
Supplier:Hilux Parts Supply Corporation Limited (2012-2018)
Hilux Diesel Company Limited ( 2018- )
Export Products Details
Shipment Port: 1.Guangzhou,China 2.Nagoya,Japan
Shipping By :Air , Sea ,Express
Lead Time: 2 days ~ 30 days
Payment Terms: T/T,WesternUnion, Business Account
1. Competitive Price and Prompt Delivery
2. Quality Approvals and Reputation
3. Small orders accepted
4. One-stop purchase service,Container consolidations; International shipping service.
5. Provide China Aftermarket Toyota Parts and Japan 100% Genuine Toyota Parts
6. Brand : (1). Aftermarket Toyota Parts is No Brand.
(2). Genuine Toyota Parts is Original TOYOTA Brand.




TOYOTA Snorkel
,
Toyota 4X4 Snorkels
,
Toyota Hilux Snorkel
,
Toyota Vigo Snorkel
,
Toyota Hilux Vigo Snorkel
,
Toyota 4Runner Snorkel
,
Toyota Tacoma Snorkel
,
Toyota FJ Cruiser Snorkel
,
Toyota Land Cruiser Snorkel
,
Toyota Prado Snorkel
,
Toyota RAV4 Snorkel
,
Toyota Highlander Snorkel
,
Toyota Tundra Snorkel
,
Toyota Land Cruiser Prado Snorkel
,
Toyota Pickup Snorkel
,
Toyota 4WD Snorkel