Toyota Engine Parts
19850-64031,19850-64030 Toyota 1HZ 3B 2C Glow Plug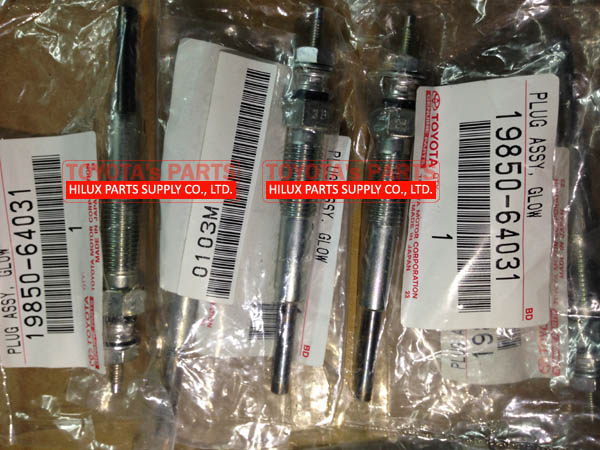 19850-64031,19850-64030 Toyota 1HZ 3B 2C Glow Plug
1985064031,1985064030 Original Toyota Glow Plug11V-12V For Toyota 1C Engine, 2C Engine, 1PZ Engine, 1HZ Engine, 1HDT Engine, 3B Engine.
This Toyota glow plug is brand new Toyota Coaster parts, Genuine Toyota land Cruiser Parts, Original Toyota Corolla Parts, Toyota 2C 1HZ 3B 1PZ 1C 1HDT Engine Parts.
This Toyota glow plug is made in Japan
CONTACT US

Contact: Mr. Michael
Phone:0086-139-2246-2247
Tel: 0086-20-373-528-85
Email: info@toyotahiluxparts.com, toyotaparts@qq.com
Address:No.2 Yuanquan Street,Guang Yuan East Road, Guangzhou, P.R. China. Zip Code:510500
Home Http://www.ToyotaPartsCo.com
Supplier:Hilux Parts Supply Corporation Limited (2012-2018)
Hilux Diesel Company Limited ( 2018- )
Export Products Details
Shipment Port: 1.Guangzhou,China 2.Nagoya,Japan
Shipping By :Air , Sea ,Express
Lead Time: 2 days ~ 30 days
Payment Terms: T/T,WesternUnion, Business Account
1. Competitive Price and Prompt Delivery
2. Quality Approvals and Reputation
3. Small orders accepted
4. One-stop purchase service,Container consolidations; International shipping service.
5. Provide China Aftermarket Toyota Parts and Japan 100% Genuine Toyota Parts
6. Brand : (1). Aftermarket Toyota Parts is No Brand.
(2). Genuine Toyota Parts is Original TOYOTA Brand.




19850-64031
,
Toyota Glow Plug
,
19850-64030
,
Toyota 1HZ Glow Plug
,
19850-64030 Toyota 3B 2C 1HZ Engine Glow Plug
,
Toyota Land Cruiser 1HZ 12V Glow Plug
,
Toyota 3B Glow Plug
,
Toyota 2C Glow Plug
,
1985064031
,
Toyota Coaster 3B Glow Plug
,
1985064030
,
Toyota 1HD-T Glow Plug
,
19850-64031 Toyota 1HZ 3B 2C Glow Plug
,
Toyota 1PZ Glow Plug
,
Toyota 1C Engine Glow Plug
,
Toyota Engine Parts